Company.
Cooperation. Competencies. Network.
For more than 40 years, we have been committed to meeting the individual needs of our customers. Our team of 24 employees consists of experienced insurance specialists and risk engineers with many years of experience in the national and international insurance business. In our contact with our customers in the areas of manufacturing, trade and services, service quality and the personal contact are our highest priority.
So the focus remains on your core competency!
Our Credo
The customer is at the centre of all activities, to whom we offer measurable added value in the area of risk insurance and loss prevention. Customer satisfaction is our top priority.
In the interest of our customers, we are a tough negotiator when dealing with the insurance providers but behave with respect. As an Innovator – and in the changing risk environment - we make substantial contributions to finding new insurance solutions in the market.
We offer our employees a modern working environment for their varied, interesting and challenging work. We attach great importance to training and development opportunities and actively promote them. We offer our employees an environment that enables them to perform at their best.

In our activities, we pay attention to where we can save resources and avoid environmental impact. With our EHS and Risk Engineering Services we promote the realization of sustainability goals by our customers.

Cooperation
From the beginning, transparency has been a constant component of our company DNA. For that reason, we show the brokerage that is paid by the insurance companies and credit them to our customers. In exchange, we charge a fee for our efforts.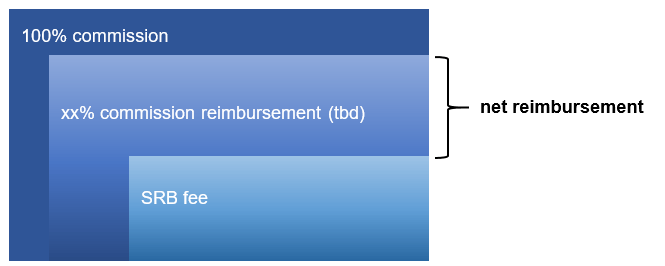 As of the settlement date, we will offset these two components. Our services are recorded in detail and shared transparently in the annual statement.

We can also use different models of cooperation or project orders. We adapt ourselves to your individual needs.
So that you can keep an eye on your profit.

Contact us for a non-binding offer.
Quality management ISO 9001
We can proudly say that SRB Assekuranz Broker AG has had an efficient management system since its foundation in 1980. This has been certified according to ISO 9001 since 1995. The quality policy is an integral part of our corporate objectives and quality is a matter of course for us.
Together with our clients, we actively support the implementation of management systems in the areas of EHS and risk management.
Our QMS is the basis for an effective quality assurance of customer and company processes and a sustainable quality and risk management in the company.

Customer orientation, customer satisfaction, process efficiency and the ability to react flexibly and quickly to specific customer requirements and market tasks are among the most important success factors for SRB in global competition.
FCOS Certificate
The SRB accompanies and supports the companies in all matters of occupational safety and health protection with ASA expertise and practical solutions.
The SRB model solution recognised by the Swiss Federal Coordination Commission for Occupational Safety (FCOS) is implemented in collaboration with internal specialists, taking into account the maximum in-house performance in the area of occupational safety and health protection.
Green electricity
We purchase 100% green electricity and thus rely on an environmentally friendly power supply.
naturemade star is the name of the Swiss seal of approval for green electricity from hydropower and other renewable sources such as solar, wind or biomass. The seal sets strict conditions so that the life of plants and animals around the certified power plants is affected as little as possible. The Association for Environmentally Sound Energy (VUE) carries naturemade star, which is supported on the side by Pro Natura, WWF Switzerland and many other associations and companies.
History
1980
Establishment of "SRB Schweizerische Stiftung für Risikoberatung" (SRB=Swiss Foundation of Risk Consulting)
1983
Establishment of "SRB Assekuranz Broker AG" Formation of "SRB International Broker Organization" and holding of discussions with initial network partners

1995
First certification according to ISO-Standard 9001

2003
As part of the management buyout on 01.01.2003 the members of the executive management Roland Ebert, Stephan Egli, Johann Fäh, Edoardo Leusciatti and Dr. Matjaž Roš, took over SRB Assekuranz Broker AG
2007
Strategic cooperation with the broker network "Brokerslink - Global Insurance Partnership" in addition to the existing network "SRB International Broker Organization"
2008
Founding of the subsidiary in Liechtenstein
2011
Move to Luggwegstrasse 9, Zurich Altstetten
2017
Johann Fäh sells his shares based upon his pending retirement to the partners Edoardo Leusciatti, Stephan Egli, Roland Ebert and Dr. Matjaz Ros
2019
Merger with Ebert SRB Assekuranz Broker AG, Uznach
2020
The SRB celebrates her 40th birthday! Due to the Corona Pandemic the anniversary celebrations have to be postponed
2020
Roland Ebert sells his shares based upon his pending retirement to the partners Edoardo Leusciatti, Stephan Egli and Dr. Matjaz Ros
2022
SRB loses a valued co-owner, friend and colleague. We bid farewell to Dr Matjaz Ros (1961-2022)